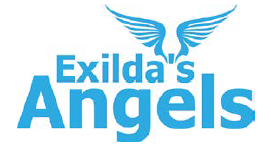 Please note this is a new website for Exilda's Angels.
If you notice something incorrect, or you don't understand, please contact us at: info@exildasangels.org
Exilda's Angels is a charitable company limited by guarantee, registered in England and Wales, with charity number 1141241 and company number 07327468.
The registered office is at Stone King LLP, Boundary House, 91-93 Charterhouse Street, London EC1M 6HR
Contact us via info@exildasangels.org
The contents of the website including text and pictures are ©Exilda's Angels unless indicated otherwise

PRIMARY SCHOOL
The building of the Primary School was a community event with much of the work carried out by local people, with professional expertise used as needed.
The building of the school is recorded here.
The first children have shown their appreciation by writing letters
The school is currently completing the final internal fit out and decoration with toilets, playgrounds and teacher housing scheduled to commence building later this year The school is being built to The Mpika Ministry of Educations plans and standards, the building work being verified by the Ministry's building inspectors. The school has the full backing of the Education Ministry and local government who have confirmed their full support in the provision of electrical supply, internal outfitting and salaried teachers on completion. The funds for the building of the school have been raised through various activities and donations, one hundred percent of which go directly to the project for the purchase of materials and labour costs for the building work. The charity directors work on a complete voluntary basis. The first primary school is now nearing completion with final fit out and internal decoration underway.
In Mid 2012 Chita Village Primary School was complete and handed over to the Mpika Ministry of Education. The school was built to plans and regulations provided by the Ministry of Education and took just over 12 months to build using experienced builders overseen by an on site project manager to coordinate the purchase and delivery of materials and completion of each phase.
The Ministry of Education also attended during the build phase to ensure the building work was in accordance with their plans and regulations.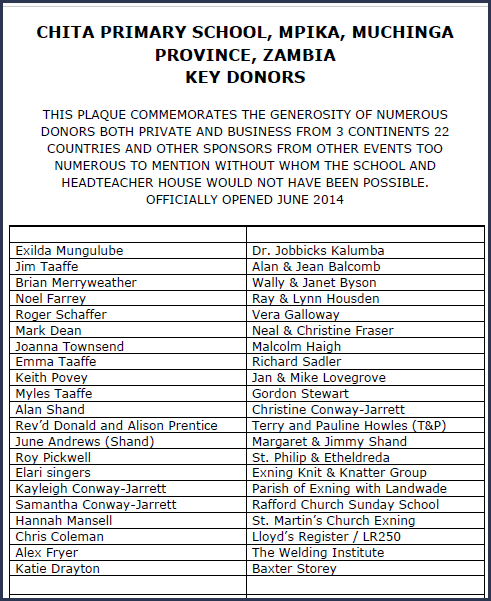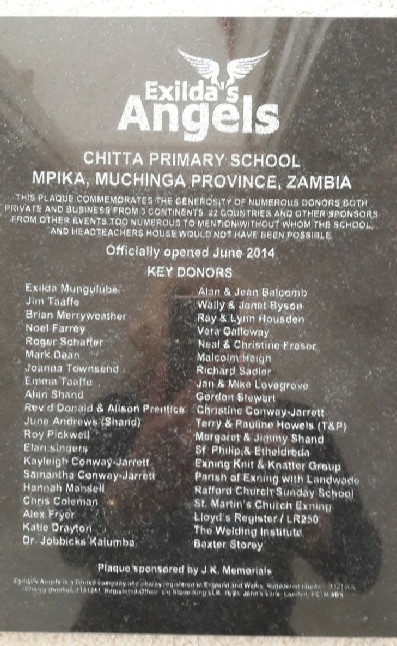 Chita Primary School


School